Nova Scotia passed Bill 38 on October 13th, 2017. The following Monday in the provincial House of Assembly, Dartmouth East MLA Tim Halman spoke, giving honors to Gardens of Grace and the group's founder, Paula Harmon. Oct. 17/17

Video from Nova Scotia's Legislative Assembly.

Recognition for Nova Scotia's achievement was forthcoming from the Ontario MPP who spearheaded the drive to pass the first Pregnancy and Infant Loss Awareness Bill 141 in 2015. Mike Colle gives a shout out to our efforts.

Oct. 16/17

October 15 Proclaimed Pregnancy and Infant Loss Awareness Day

"So many families think they are alone...nothing will replace(my child), but by proclaiming this day we can at least honor her and the other children who were gone too soon." Published by Lighthouse Now. Oct. 18/17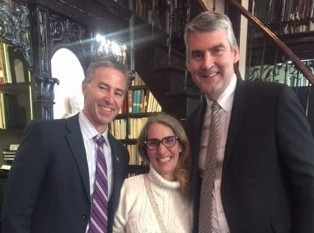 A tireless champion to bring awareness of pregnancy loss issues into the political spectrum, MLA Tim Houston speaks on the passing of Bill 38 only two days after introducing it, and making 2017 the first official observance of Pregnancy and Infant Loss Awareness Day in Nova Scotia. Oct. 13/17
The official press conference held by Nova Scotia MLA Tim Houston on October 11, preceding the introduction of Bill 38, requesting recognition of Oct. 15 as Pregnancy and Infant Loss Awareness Day. Raylene MacPherson and Paula Harmon also speak for the Bill. Oct. 11/17
Kings County Council To Recognize Oct 15
"Gardens of Grace was formed in an effort to raise awareness...in hopes that more dialogue will lead to more bereavement care options throughout the Maritimes..." Sept. 27/17

Woman Seeking Ways To Honor Lost Children, With Help From Pictou County

"A Pictou County connection led Paula Harmon's life on a new journey after the loss of her daughter..."
Oct. 06/17
Halifax radio station News 95.7 has been a staunch supporter of the efforts of Gardens of Grace from the very birth of the group. Unfortunately we have no clips from the Oct 13 interview after Bill 38 passed, but this clip from The Sheldon MacLeod Show is leading up to the introduction. Sept. 26/17

This Is What Losing A Baby Feels Like

"...Harmon is joining forces with fellow mother Raylene MacPherson who lives just outside New Glasow and Pictou East MLA Tim Houston to reintroduce the Pregnancy and Infant Loss Awareness Act...:
The News, Oct. 11/17
Bridgewater Woman Aims To End Taboos Around Infant Loss With Memorial Gardens
"...as part of Pregnancy and Infant Loss Awareness Day, Harmon is encouraging municipalities to participate in a Wave of Light..."
Lighthouse Now July 06/17
Paula Harmon speaks with Halifax based radio host Sheldon MacLeod. The Sheldon MacLeod Show airs weekdays on News 95.7. June 26/17

Jen Stewart of "Find Your Sparkle With Jen" on 97.5 Community Radio talks with Paula Harmon, aired July 27, 2018. Paula shares her journey of every parents worst nightmare, losing her daughter at just 3 years old, and how starting Gardens of Grace has helped her deal with her devastation. She also talks about her group's advocacy for bereaved parents with Ottawa and (the subsequent passing of) Motion 110. Find out how you can be involved and help.
The fight for Motion 110 to get the Federal HUMA Standing Committee to speak to parents who have suffered loss took Gardens of Grace to Parliament Hill. This press conference with MP Blake Richards and other advocates from across the country took place just before the first hour of debate in Canada's House of Commons.
April 27, 2018

Watch the final hour of debate and subsequent passing of M-110 in Parliament. "Grieving parents need our support and the government should not abandon them in their most difficult time. Together, we can make changes that will have a positive impact on so many parents every year. " Gardens of Grace was proud to be part of this push forward in the effort to advocate for parents of loss.

June 8, 2018